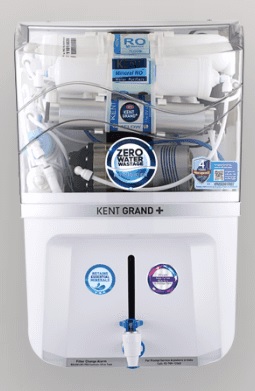 KENT Grand+
KENT Grand+ is the most trusted and largest selling RO Water Purifier with KENT's Mineral RO Technology that retains essential natural minerals in the purified water. The multiple purification process of RO+UV+UF+TDS Control removes even dissolved impurities, bacteria, and viruses to make water 100% pure and healthy. Also, it comes with UV LED light in its storage tank that keeps purified water bacteria-free and pure. Best suited for Indian homes and offices, KENT Grand+ is ideal for purifying brackish, tap, and municipal corporation water.
Makes Water 100% Pure
Multiple Purification Process
Retains Essential Minerals
UV LED Light in Storage Tank
Zero Water Wastage Technology
High Purification & Storage Capacity
Most Trusted & Awarded
Instant Solutions and Delivery to Your Address for Kent Water Purifiers or RO Water Purifiers
MGR Technologies offer Kent Water Purifiers, RO Water Purifiers, and installation services in Bangalore and surrounding suburbs with the assurance of instant services, reasonable rates, and installation in a real-time manner. Feel free to contact us for the latest models of RO systems and water purifiers from Kent and other big brands to get every drop of water in the purest form to drink, cook food, and for other purposes.